Seasonality products
Submitted by Anonymous on Wed, 2014-10-01 22:38
Three global climatological 7-day time series describing the natural variability of the vegetation, the snow cover and the burned areas
On a per pixel basis, these LC seasonality products reflect, along the year, the average dynamics and the inter-annual variability of the land surface over the 1998-2012 period. They are expressed as 7-day time profiles of the average and standard deviation for the vegetation greenness (NDVI) or as temporal series of occurrence probabilities for the snow and the burned areas.
Although they are built from existing and independant datasets, they were found to be quite consistent amongst themselves and with the land cover classes. These products are complementary to the three global CCI-LC maps products characterizing the same period.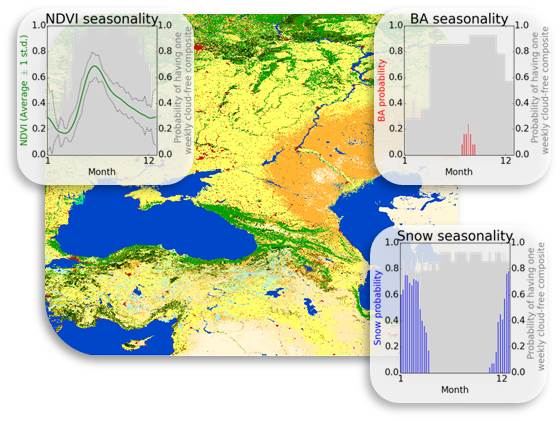 Each climatology product is delivered in 52 files (1 file per 7-day time interval) and each file is made of measurements and quality flags.
For more information on the products, go to: http://maps.elie.ucl.ac.be/CCI/viewer.
For any further questions or concerns, contact us at contact@esa-landcover-cci.org.