Submitted by abellavia on Tue, 2018-02-06 23:50
The 1st CCI Land Cover workshop took place on 31st August 2017 in ESA/ESRIN, and aimed at introducing the CCI Land Cover dataset in details and sharing experiences on its exploitation in various contexts from climate modelling to UN statistics. It was also an opportunity to exchange on the appropriate use of this long term time series and the expected support. Read more »
Submitted by clamarche on Thu, 2018-02-08 15:42
This package is prepared for users of Sen2Cor version >=2.5 who wants to benefit from the last improvements of Sen2Cor Cloud Screening and Classification module.
This auxiliary data information is used in Sen2Cor to improve the accuracy of Sen2Cor classification over water, urban and bare areas and also to have a better handling of false detection of snow pixels.
More information and download on our viewer ! Read more »
Submitted by abellavia on Tue, 2018-02-06 23:41
In September 2017, a prototype high resolution Land Cover map over Africa was released. It has been developed at 20m, based on 1 year of Sentinel-2 A satellite observations from December 2015 to December 2016. The main objective to make public this prototype is to collect user's feedback for further improvements. In this context, there has already been 1000 downloads and 17 000 views. Read more »
Submitted by abellavia on Tue, 2018-02-06 23:24
CCI Land Cover team publishes the overall work related to this project through peer-reviewed papers. Recent publications are available here below : Read more »
Submitted by abellavia on Mon, 2018-01-22 15:09
Land cover maps describe the different types of materials on the Earth's surface, such as water bodies, ice cover, crops, forests, grasslands and artificial surfaces. This information is important for tracking changes in land use, conserving biodiversity, managing natural resources, and understanding climate change. Read more »
Submitted by clamarche on Thu, 2017-09-28 13:23
The ESA Land Cover CCI project has now released an additional feature to the CCI Water Bodies v4.0: the distinction between inland water and ocean. More information on the methodology here.
The layer can be downloaded on the project viewer: http://maps.elie.ucl.ac.be/CCI/viewer/download.php
Submitted by clamarche on Thu, 2017-09-28 11:43
The CCI Water Bodies v4.0, together with many outcomes of the ESA Climate Change Initiative, was showcased in an ESA - Planetary Visions animation describing the physical processes causing global sea-level rise.
The video is visible on the ESA space in video page.
Submitted by clamarche on Mon, 2017-09-25 14:46
Venue: ESA-ESRIN - FRASCATI, ITALY
Date: 31st August 2017
The 1st CCI Land Cover workshop aimed at introducing the CCI Land Cover dataset in details and sharing experiences on its exploitation in various contexts from climate modelling to UN statistics. It was also an opportunity to exchange on the appropriate use of this long term time series and the expected support
Thank you to all presenters and participants who contributed to the success of this meeting !
Agenda
For those who could not attend the meeting but have an interest in the presentations, see the Workshop Agenda.
See also the zip with all presentations.
Broadcast
The recording of the meeting can be found here (8GB).
Products download
http://maps.elie.ucl.ac.be/CCI/viewer/index.php (top right red button)
(c) ESA Climate Change Initiative - Land Cover led by UCLouvain (2017)
Submitted by abellavia on Wed, 2017-09-06 14:31
Submitted by abellavia on Fri, 2017-07-28 12:25
Invitation to the 1st CCI Land Cover User Workshop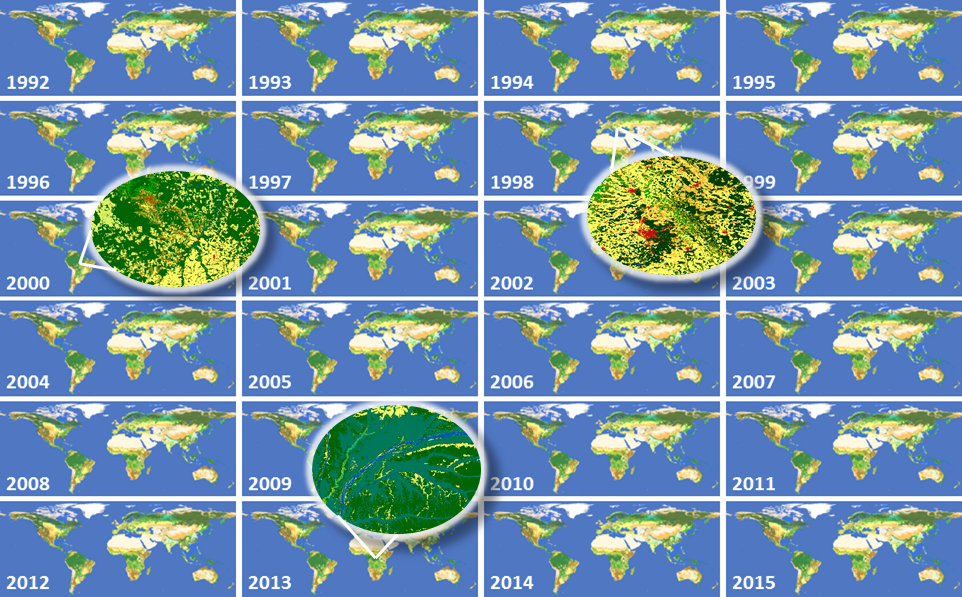 Dear WorldCover participant, Read more »