Project team
Submitted by Anonymous on Tue, 2010-09-07 12:04
The Consortium is based on a close collaboration between eleven different partners:
Université catholique de Louvain (UCLouvain), Belgium
Brockmann Consult (BC), Germany
University of Jena (UJENA), Germany
Wageningen University (WUR), The Netherlands
Gamma Remote Sensing (Gamma), Switzerland
University of Pavia (UPavia), Italy
Centre de Recherche Gabriel Lippmann (CRP), Luxemburg
Joint Research Centre (JRC), Italy
Met Office - Hadley Centre (MOHC), United Kingdom
Laboratoire des Sciences du Climat et l'Environnement (LSCE), France
Max Planck Istitute for Meterology (MPI-M), Germany
This consortium is organized into three main pillars or area of expertise of equal importance in terms of success for the project:
EO sciences team pillar, under the leadership of UCLouvain. This pillar includes the development of the ECV product, including preprocessing by BC, classification by UCL and CRP, SAR-related improvement by UJena, UPavia and Gamma and land cover validation by the JRC, WUR and a panel of international experts.
Climate Research Group pillar, under the coordination of WUR. This pillar includes the analysis of the users requirements and testing of the models through the expertise of climate model key users in-house (MPI-M, LSCE, MOHC) and consultation of the wider community through round-robin process (WUR).
System engineering pillar, under the responsibility of Brockmann Consult. This pillar includes the translation of the results into near automatic processing chain.
In support of these pillars, the management activity is operated by UCLouvain.
Picture of the CCI LC consortium team members, taken at the Phase 1 Final Review in ESRIN.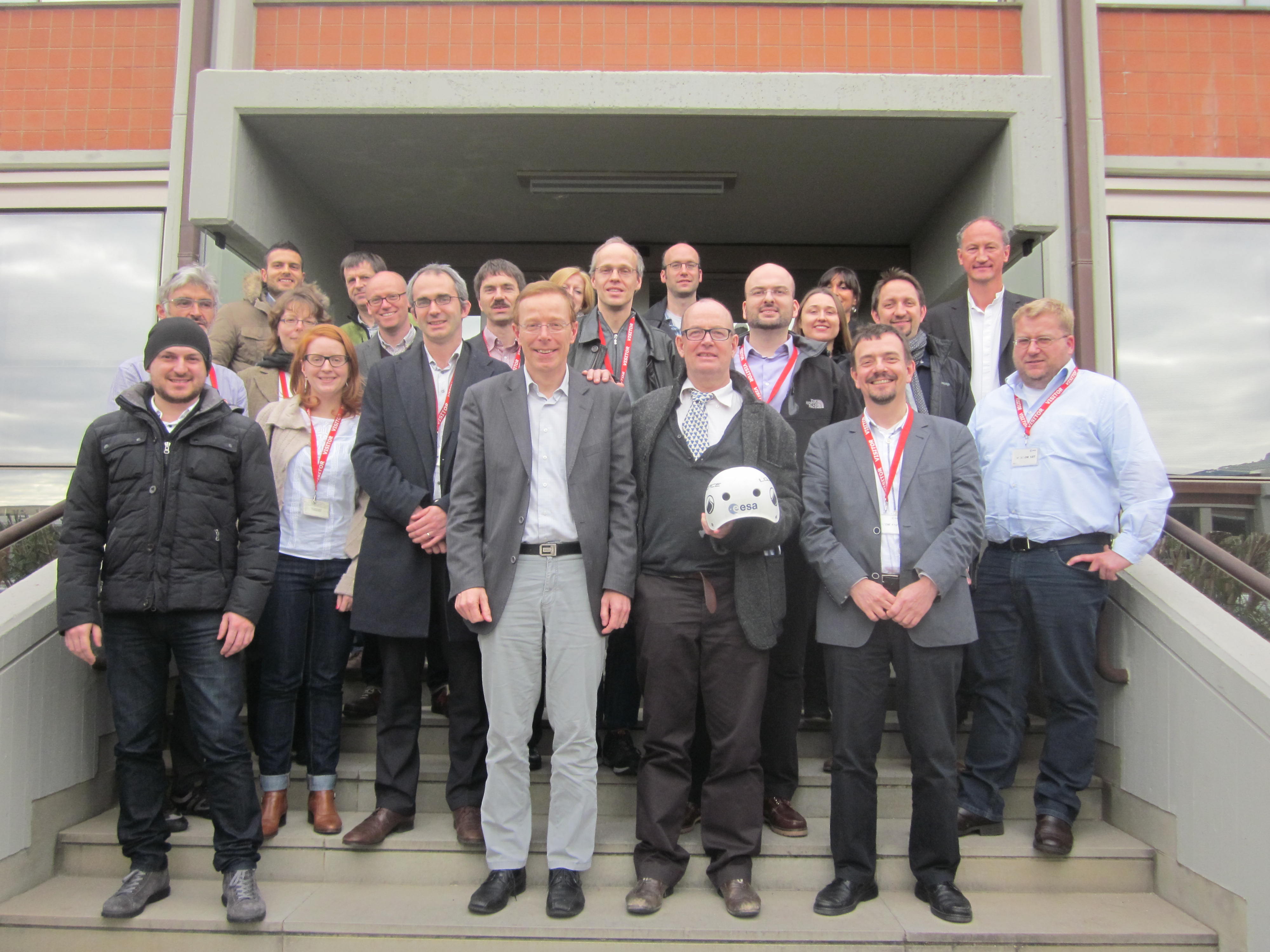 From left to right: Gianni Lisini (UPavia), Frédéric Achard (JRC), Fabrizio Ramoino (ESA), Grit Kirches (BC), Céline Lamarche (UCLouvain), Philippe Peylin (LSCE), Andrew Hartley (MOHC), Dimitri Lederer (UCL), Martin Boettcher (BC), Pierre Defourny (UCLouvain), Natasha MacBean (LSCE), Stefan Hagemann (MPI-M), Martin Schlerf (CRP), Olivier Arino (ESA), Brice Mora (GOFCE-GOLD), Iryna Khlystova (MPI-M), Sophie Bontemps (UCLouvain), Carsten Brockmann (BC), Martin Herold (WUR), Frank Martin Seifert (ESA), Carsten Pathe (UJena).